Dawn Fraser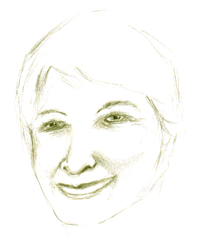 Australia declared her a national living treasure. A world jury headed by the President of the International Olympic Committee named her the World Female Swimmer of the Century. During her career Dawn Fraser won 8 Olympic medals over three Olympics, and broke 27 individual world records and 12 relay world records. She also won 8 Commonwealth medals and 30 Australian championships. She managed this even though Australian swimming officials banned her from competitive swimming for 10 years after the 1964 Tokyo Olympics.
Dawn fought hard to have the 10 year ban removed. Eventually, she won but too late to allow her to swim in the 1968 Mexico Olympics. Instead, the Mexican Olympic Organising Committee invited her to attend the games as their guest. During the games, a journalist challenged her to swim 100 metres in less than 62 seconds. Despite her lack of training and preparation she easily won the bet. Her time was so fast that it seems likely that had she been competing in the event she would have won. In fact, Dawn says, "I know I would have won it" (1, p. 232). Dawn had already won the 100 metres freestyle over three successive Olympics. Mexico would have been her fourth.
Some months after returning from Mexico Dawn was to experience another disappointment. A man she 'loved dearly' had decided to marry another woman. It was left to his mother to tell Dawn.
Dawn says that she cried each night for weeks but didn't tell anyone about it
That's when I fell into a very black hole. Once again I'd lost a man I loved but more than that, I was devastated when it really sank in that I could have won that fourth gold medal in Mexico… I sat at home in Balmain, began to drink heavily and sank into a very deep depression. I'd had a great time in Mexico but now I couldn't stop thinking about what might have been if the ban had been lighter or more in proportion with my so called offences.
Dawn kept asking herself 'What if' questions. "What if I'd have a chance to defend myself? … What if the ban had been lifted sooner." (p. 233) She began binge drinking. She continued to rail at the treatment she had received at the Australian swimming officials and the way they had ignored her. "I was nothing to them, but worse than that I was a complete nothing to myself" ([1], p. 234).
She resigned her job. Feeling rejected by the man she had loved and "so depressed by the ban that my drinking got even worse and I contemplated suicide." (p. 234). Describing her depression she says:
I wanted to die… I felt I had no friends, which was wrong, but I pushed away anyone who tried to help me and I lay on the couch with the door half closed and the curtains drawn.
She even videotaped a suicide note. "That may sound melodramatic, but I'd gone way past self-pity to a point of real clinical depression, and I could not see any way out." (p. 235). Dawn also says that she had lost a great deal of weight because she was not eating properly.
However, Dawn felt that she could not give up because her daughter needed her. With time, she recovered and returned to work. She says that "the main thing that lifted me out of my depression and got my life right back on track after those horror years was golf" (p. 243).
She went on to own and run various businesses, and to become a member of State Parliament. She continues to receive honors and to contribute to each Olympic Games. She was declared First Lady of Sydney 2000 Olympics. Not bad for a woman who once felt that she was 'nothing to them' and a 'complete nothing to herself'.
Reference
[1] Fraser D. One Hell of a Life. Hodder: Sydney, 2001.